The Perfect Problem
Perfectionism drives anxiety for students
In 2023, St. Mary's was ranked second out of 122 private high schools in Tennessee, and it can be easy to assume that students are happy with what may feel like "guarantees" of success and a bright future. But a growing consensus within the scientific community suggests that attending "high-achieving" schools like ours can actually sometimes be detrimental to mental health.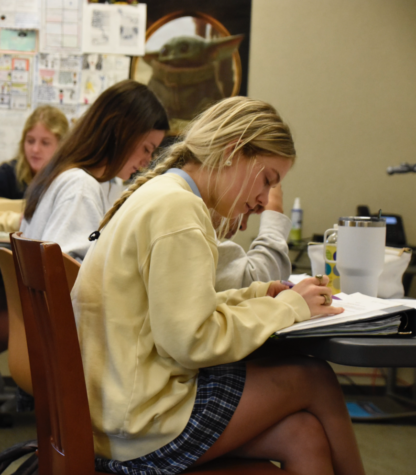 Recent research adds high school students attending "high-achieving schools" to a "list of 'at-risk' groups, along with kids living in poverty and foster care," according to an op-ed for the Washington Post by Jennifer Breheny Wallace.
"When a child's sense of self-worth is dependent on what they achieve, it can lead to anxiety and depression," she wrote.
Though the environment at St. Mary's is certainly not like poverty or foster care, it can be extremely stressful.
Junior Reeya Sharma believes this high-pressure environment can be both beneficial and harmful.
"You're always thinking about what you could be doing, and that could be a positive or a negative thing," Sharma said.
When dealing with some of the best and brightest young women in the city, as we are here at St. Mary's, competition and comparison can be powerful. It is often a battle to be the best of the best or at least to be seen in the same arena. As a result, many of us are familiar with the tight grip of perfectionism. 
A Los Angeles Times article characterizes perfectionists as "[working] hard at the expense of their own well-being [and being] motivated by a fear of failure instead of personal growth." 
St. Mary's offers a variety of clubs, teams and activities in which students can participate to explore their interests outside of the classroom. The quantity of these opportunities can be overwhelming. Considering the options available, girls can feel pressure to be involved in as many extracurriculars as possible, with the goal of stuffing their college applications.
Both self and environment-imposed pressure to be the best can push students to, and sometimes past, their limits. Perfectionism can be detrimental to our health and well-being, as it can cause anxiety, depression and eating disorders.
"
Perfectionism can be detrimental to our health and well-being, as it can cause anxiety, depression and eating disorders."
A study that recorded an increase in perfectionism among students from 1989 to 2016 assessed levels of the three kinds of perfectionism: self-oriented, socially prescribed or other-oriented. The results showed that every type was more common by at least 10% by the end of the study period, with socially prescribed having seen the greatest increase at 33%. 
New Upper School History teacher Mr. Whet Smith has observed high-pressure conditions in his first year at St. Mary's.
"[Teachers] don't just give you A's, we make you earn them," he said. "[But] sometimes, students can take the moment so seriously that they are basically stressing themselves out way beyond the point of reason and probably negatively impacting their lives." 
Upper School counselor Ms. Amy Poag agreed that the students can ask too much of themselves. 
"Perfectionism comes from that desire to control when things feel out of control, and so I think it can negatively affect people's well-being," Poag said. "If we don't give ourselves any wiggle room, then one bad test or one missed assignment… or a flat tire that makes you miss class can really set you back."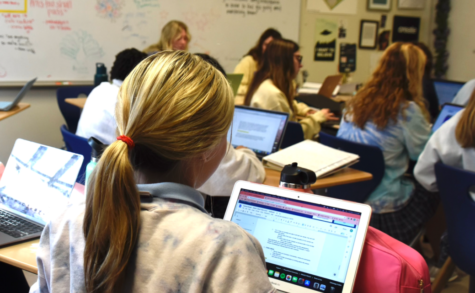 Students' tendency towards comparison can worsen this predicament. Discussing test and quiz grades, standardized test scores and grade point averages – all numerical ways to measure our worth as students and people – facilitates black-and-white comparison. 
It's a problem junior class sponsor and Upper School Chemistry teacher Ms. Rose Dunlap tries to help her students overcome. 
"Not sharing any numbers [such as test or quiz averages] is one thing I do to help with not comparing amongst yourselves," Dunlap said. "Everybody has that point where their best is not 100%, [and] here we try… to be a supportive place where you can have that moment and hopefully come to the afterward realization that 'oh, it doesn't really matter and it's fine.'"
That learning process can take time. New director of Plays and St. Mary's alumna Ms. Taylor Ragan ('07) recounts how perfectionism had lasting effects on her life after high school. 
"Perfectionism…kind of defines my time at St. Mary's," Ragan said. "It was an important lesson that I learned that it's not possible, and it took a while to learn that, but once I did, although I still wanted to strive for perfection, there wasn't that anxiety or that stress because I realized I would never quite get there."
For current students who feel the same pressure and stress, Sharma finds that determining what exactly drives us to work hard is an important factor in achieving this. 
"
We need to stop and think about whether…we're being drawn to do something or we feel like we're being pushed towards it."
— Reeya Sharma
"We need to stop and think about whether…we're being drawn to do something or we feel like we're being pushed towards it," Sharma said.
A clear distinction between these motivators can help students make better, healthier decisions. 
According to Poag, saying no can be an important part of finding that balance. 
"I think [we should allow] ourselves to say no and … to realize when we can and can't do something, even if we run the risk of disappointing someone," Poag said.
Junior Anna Smith feels it's best to measure yourself by something beyond your report cards and on-paper accomplishments. 
"Happiness," she said. "That's how I think you [should] measure your success."
Leave a Comment
About the Contributor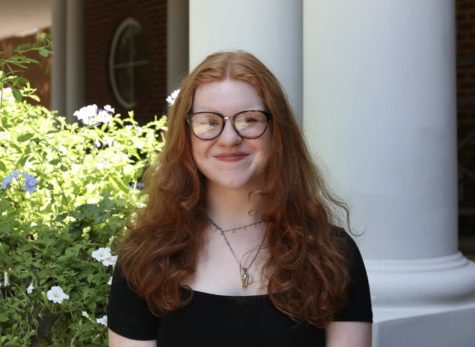 Ellis Rougeou, Staff Artist
This is junior Ellis Rougeou's third year being an artist on Tatler. She is a fiery ginger who rocks a pair of glasses that at one point split in half...