Makerspace reborn
Ms. Meagan Michael takes charge
From the physical education classroom to Model UN meeting space, the Upper School Makerspace has held many roles over the last four years – all except Makerspace. 
The administration has tasked Ms. Meagan Michael, previous Lower School science teacher and now Applied Technology and Innovation Coordinator, with turning the desolate space in the corner of the library back into the Makerspace it once was pre-COVID and pre-construction.
Michael has big plans for revitalizing the Makerspace. She has begun to fill tools and hopes to eventually have two 3D printers, laser printers and cutters, sewing machines, soldering irons and Cricuts.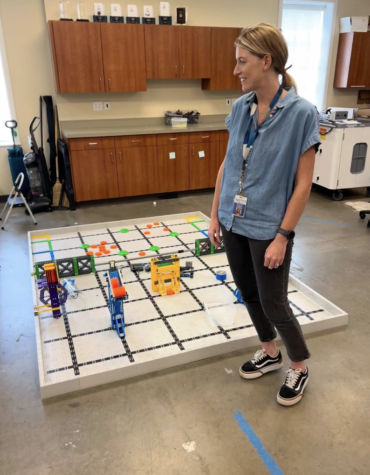 The Makerspace is used mainly for club meetings and the occasional quiet study place, but Michael hopes to change that. 
"I want to have a space where if you have a free or something … then you could take some type of class or crash course and [3D] print what you wanted any time you want," said Michael. 
She expects to offer either an introduction to engineering or introduction to robotics class next fall in the Makerspace.
Chemistry teacher Rose Dunlap is hoping she can build in class time to work in the Makerspace. 
"I'm excited to have a designated place to make a mess and build stuff," she said. In the past, chemistry classes have built rockets in the Makerspace; Dunlap says only time will tell if that tradition will be reinstated. 
Meagan Miller (9) is a former lower school robotics team member and was coached by Michael. She hopes that the revamped space will draw new faces to the robotics program. 
"[The Makerspace] might get more people to join because they are more interested in being in a new space, and they can do it with their friends," Miller said. 
The robotics team taught Miller to think outside the box and create creative designs and functions, and she believes the new and improved Makerspace has the capacity to share those qualities with the greater St. Mary's community.
Whether it is improvement of the robotics team, a new space to hold classes or a place to be creative, the new Makerspace is poised to offer new opportunities to students and teachers alike.
"My biggest hope is that teachers and students across all the [curricula] will come and be able to use the space. That's my biggest goal," said Michael. "We want to make sure we are offering everything that we can for [the students]."