High schoolers reflect on anxiety through the years
August 20, 2022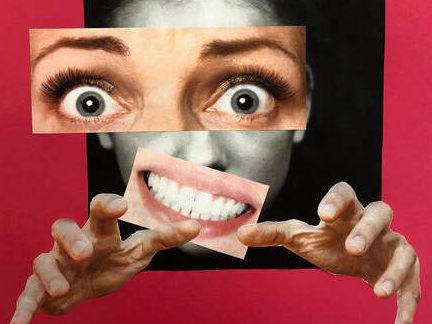 Freshmen feel more than typical freshman fear
Erin Roy (9) has been a student at St. Mary's Episcopal School since second grade. She has faced academic challenges like Mrs. Davis' sixth grade Ancient History class and artistic challenges like eighth grade Ensemble. She was not expecting to be as scared of high school as she was during the summer of 2019. Erin Roy said, "In highschool everything counts. Everything you post on social media, every test score you make, every person you choose to hang out with. Any wrong step and you are over."
​The pressure is clearly weighing on Roy's shoulders, and it is for most freshmen. Anxiety has become a much larger problem for Generation Z than other generations. Generation Z are ages four to 28 years old. On average, 58 percent of Gen Z feel symptoms of depression and anxiety, according to American Psychological Association (APA).
The causes of stress for this generation vary. The APA's study also showed that one of the most overwhelming causes is social media. Social media takes away real life interaction and can cause those who spend the majority of their time on social media to have social anxiety. Cyberbullying is a common occurrence on social media as well. Social media gives users FOMO, a phrase commonly used meaning fear of missing out. They see pictures of their friends hanging out, but they were not invited. The APA's "Stress in America" study says, "It's clear that social media is an enormous part of Gen Zs' lives, and for more than half of them (55 percent), it provides a feeling of support. The flipside, however, is that nearly half say social media makes them feel judged (45 percent)."
Coping mechanisms for anxiety are a wide spectrum. From simple stutters to self harm, the ways to relieve stress can be psychologically traumatizing. More than half of Gen Z's tend to be scared to disappoint their parents by telling them of the stress they deal with, so they instead take out the stress on themselves.
Stress for teens nowadays can come from small things like academics or larger problems such as school shootings. The "Stress in America: Generation Z" study showed that three-fourths of teens feel immense stress from the idea of school shootings. While Gen Z have lived their entire life with phones, they also have lived their entire life with terrorism, school shootings, drug abuse, sex trafficking, human trafficking, and the list can go on and on. The childhood and innocence of Gen Z is short lived because technology tends to reveal the dark truths of the world, forcing parents to give "the talks" at very young ages.
Gen Z may face many mental health issues, but, thanks to Millenials, seeking professional help has become a very acceptable act. More than one-third of teens feel welcome to the idea of therapy and counseling. Teens have the example that Millenials set which shows how helpful and healthy counseling is, even if mental health issues are not a problem.​
Erin Roy is just one of many teens who stress about school and the pressure it gives. As a Gen Z, she faces problems with social media and the overhanging fear of shootings and terrorism, but Erin still feels the excitement of life. She does look forward to the rest of highschool and the opportunities it gives. She says, "Having been a highschooler for two months now, I am learning that through all the hard classes, loads of homework, and stress, this school also provides a safe space for me to be able to grow and experience cool, new things. I think that's what high school should be about, not the anxiety that the academics give."
Leave a Comment
Three years later, anxiety still plagues students
Three years ago, Erin Roy (12) was a freshman who was scared of seniors, teachers and derby day. Now as a senior, she has to face bigger challenges like standardized tests, college applications and finances and saying goodbye to St. Mary's. 
"Freshman year, I was so worried about what other people thought about me in my school. Over the years, I grew more confident in being a high schooler, but now as a senior, it feels like there's a lot more at stake," Roy said. "We are expected to get ready to go to college, take standardized tests and have an amazing last year. That takes the anxiety to a whole new level."
She's not alone. 
Last October, the U.S. Surgeon General, Dr. Vivek Murthy, issued a declaration of a national emergency for children and adolescents' mental health, citing significant increases in anxiety and depression resulting from the COVID-19 pandemic. 
Because young people spent so much time on their phones and social media during the pandemic, comparisons and false realities built even more anxiety. 
"Young people are bombarded with messages through the media and popular culture that erode their sense of self-worth — telling them they are not good-looking enough, popular enough, smart enough or rich enough," wrote Dr. Murthy. 
For Grayson Finks (12), who has over 100,000 followers on TikTok, the eyes of strangers commenting on her posts feels uncomfortably similar to the eyes of strangers deciding if she can get into college.
"I feel like it's the same judgment. They look at who we are on paper, and there is only so much colleges can evaluate us on," Finks said. "It's the exact same feeling of 'these people don't know who I am,' and they are judging us on simple things."
While college applications can create by making you feel like you're engaged in a self-marketing scheme, they also are becoming more and more difficult to make distinct. With a rising pool of applicants, it feels like getting to college is contingent on a roll of the die. 
According to U.S. News and World Report, there are more college applicants than ever with a 21% increase since 2019. The chances of being admitted to your dream college are lower than they used to be. With Harvard University's admission rate dropping from 5.2% to 4.5% and Wesleyan University's 21% to 17.4% from 2020 to 2022, high school students are reasonable in being worried about likelihood of getting into certain schools. 
Going forward into this school year, seniors need to remember that an acceptance or a rejection is not targeting their self-worth. We need to prioritize mental health, and enjoy this last year we have with each other. Too much time is spent worrying about appearances, social media and college admittance. 
College is important. But this year is the last year we, as seniors, have with each other. So let's let go of the anxiety we've been carrying since freshman year and the anxiety that's come with senior year. Let senior year be the year we join together to lift each other up as we go through the traditions like the Christmas Pageant, milestones of getting into college and the extended closure of saying goodbye to the place we've known for years. 
If you or a classmate are struggling with anxiety, reach out to Upper School Guidance Counselor Ms. Poag, Assistant Chaplain Ms. Segars ('05) or any other trusted adult. 
Leave a Comment