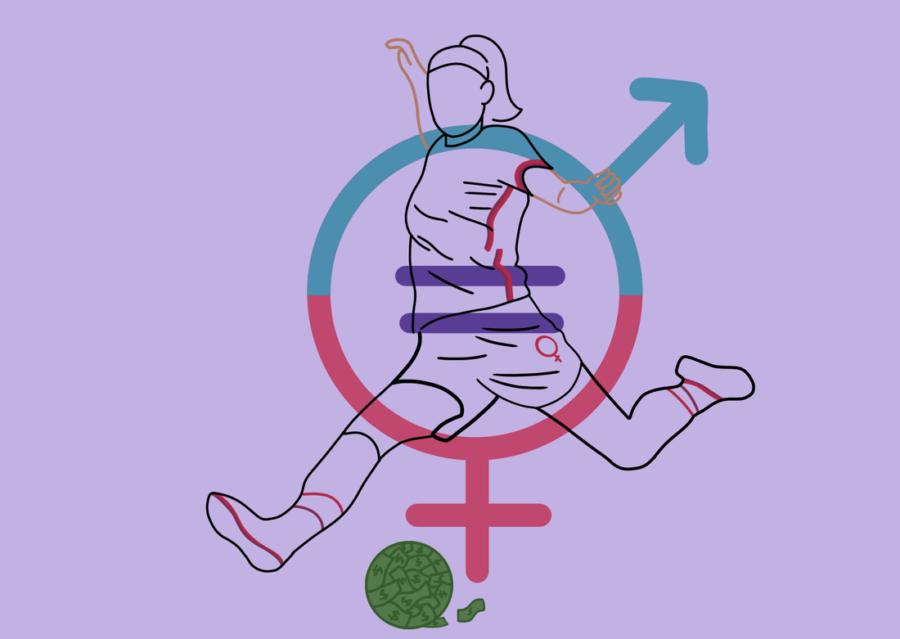 Women's History Month begins with equal pay for Women's Soccer
March 23, 2022
After six years of legal battles with the U.S. Soccer Federation, the United States women's soccer team has been promised the same salary as their male counterparts. In 2016, five United States Women's National Team (USWNT) players, Carli Lloyd, Alex Morgan, Megan Rapinoe, Becky Sauerbrunn, and Hope Solo filed a lawsuit expressing their dissatisfaction with the inequitable treatment of the women's team compared to the men's team. It was not until Feb. 2022 that they finally settled the argument.
Not only were the players receiving significantly less money than the men, but their facilities, food, and hotels were not nearly at the same quality. The Soccer federation was not going to change this on their own, so the players took it upon themselves to take action to make change. After years of fighting, the women won and settled on $24 million from the USWNT.
The players released a statement on Feb. 22 saying, "We are pleased to announce that, contingent on the negotiation of a new collective bargaining agreement, we will have resolved our longstanding dispute over equal pay and proudly stand together in a shared commitment to advancing equality in soccer."
Within the SMS community, athletes are encouraged by this act and inspired by these women who are speaking up in a male-dominated industry.
Triathlete Carrington Davis (12) said, "For the first time, female athletes have been encouraged to do the same as male athletes while also getting the same payment. I think this news gives recognition to the importance women's sports hold."
The journey to get to this point was not smooth, though, and multiple people involved in the process have hindered their success.
Former U.S. Soccer President Carlos Cordeiro's legal documents said, "The job of a Men's National team player requires materially different skills and more responsibility."
He received backlash from the media and colleagues, causing him to resign the next day. This was good news for the USWNT, for his successor is a woman named Cindy Parlow Cone. Having a woman step in significantly helped their efforts, as she would not make the same sexist remarks that the previous president did.
While this is very motivating for young female athletes, there is just one thing that is troubling about the outcome: a women's team has to be incredible to receive the same benefits a mediocre men's team would receive automatically.
Upper School history teacher and running coach Holly Hensarling said, "The message is also that you have to be awesome and a world champion in order to get what you deserve."
In many ways, women are forced to put more effort into different aspects of life in order to achieve the same as men. Women consistently have to work harder in their education, jobs, and social situations as well as deal with the stereotypes placed on their shoulders. If women appear passionate, then they are aggressive and bossy. If women are wealthy, then they are assumed to be greedy. The strongest woman is still likely seen as physically less than the average man.
The change in equal pay for women in the USWNT as male professional soccer players proves that these stereotypes are beginning to be eliminated–sadly, it just takes one lawsuit at a time.