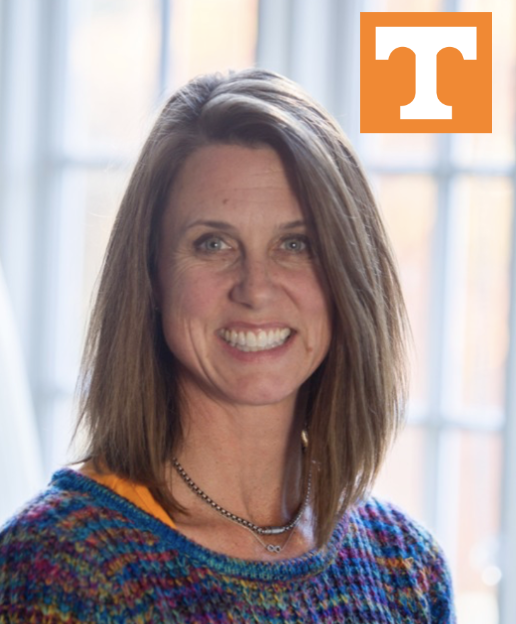 Ms. Caroline Goodman – University of Tennessee, Knoxville
What made you choose UTK?
I don't really have any good specific reason. Back in my day, I didn't have a lot of help. It was always expected I would go to college, but my parents were not involved in my school at all. … And there were no college counselors. I grew up in California and Ohio, and then I moved to Tennessee when I was in high school, … so that's how I ended up in the state, and then I didn't have a specific school. So I just thought, I guess I'll apply there. A bunch of my friends were going there, and so I just went. And it turned out to be the best experience. Those were the best years of my life. I would go do it all again over and over, like Groundhog Day, if I could. It was the very best. I loved Knoxville. I loved the school. 
What was your most valuable experience there? 
I was a rower on the crew team. It was a club sport at the time. I had always been athletic, so I was looking for something to do to stay in shape, but I wasn't very good at any sports, so I was just walking through the club fair, and they were recruiting people to go row. We got to row out on the river right in front of the stadium every morning. It was super awesome. … When [my family] moved to the South, it was very much a culture shock. … It was scary, so I felt like when I got in with the rowers up there, it felt like home. I knew some people, but it's still a huge school. I didn't have classes with anybody I knew or anything, so it did kind of give me a group of people.
What opportunities did you get there?
I had to really figure out how to be a learner myself. I did not go to a school like St. Mary's. … [high school] was very easy for me.  I did not learn how to write in high school, and I really didn't learn how to think, to be honest. So, when I got to college, my freshman year was very hard. I had to really quickly either figure out how to do both of those things, or I was going to be going back home. I had to figure out how to help myself, and it was a shock, and then it was so empowering. I figured out where the Writing Center was, or I went to office hours and met with my professors and learned how to do that for myself, instead of just letting myself coast by and expecting to figure it out. [Even though] I was going to a huge university, I could still get individual help from my teachers. I just had to ask for it instead of waiting for someone to ask me.
Are you still involved at all?
I gladly give them money. I wish I had more to give. If I ever win the Powerball, I will establish a scholarship fund in my name at UT. I used to have season football tickets, but then I had children, and getting up there on the weekends was too hard. But maybe … I'll go back to doing that again. I bleed orange, and I love that place. I would live in Knoxville again in a heartbeat. Maybe I will someday. It's just beautiful there. College towns are just really great places because they're just academic and intellectual. You just get a big group of eclectic people, and I love that. I love everything about [UTK].
Advice to seniors?
This does sound cliché, but you're never stuck. There's a lot of angst surrounding, "Am I going to make the right decision?" And I get that. Of course, you want to make the right decision, and you want to pick the place where you're going to be the happiest, but for some people, that doesn't happen. I think people just don't realize sometimes, there [are] just a lot of reasons why it's not a good fit. So, once you get somewhere, you don't have to stay there, if you get there and you're miserable. It feels like it's this permanent decision that's going to affect the rest of your life, but you have so many options.