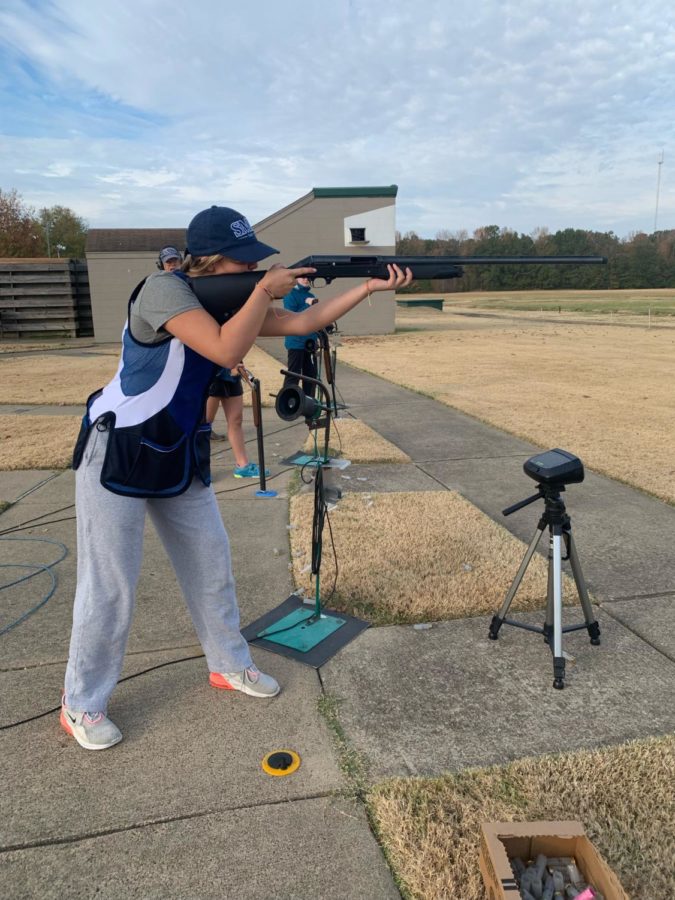 TRAP
The trap team has one of the best records in the school. It is the only team to have members competing on a national level, and Gabby Smith (12) is included in that statistic. In Smith's 2022 season, she placed fourth in the Scholastic Clay Target Program National Trap Tournament out of 350 high school girls across the country. 
Smith may be winning titles as an upperclassman, but she was unaware of the sport coming into Upper School. 
"I joined trap freshman year not really knowing much about it, and I kind of went into it blind, but I've come to really enjoy it," Smith said.
The success of this team is due in part to the experienced coaching staff. When Head Coach Bill Quinlen joined the team 12 years ago, not only did the size more than double, but the team started to gain recognition in the city. 
One of his athletes was the 2020 Commercial Appeal Courage Award winner, Emily Ferguson ('19). 
One of Quinlen's proudest moments is when Ferguson was on the team.
"In 2019, when Emily Ferguson finished second in the nation," Quinlen said. "She was also the second lady to shoot a 199/200. It was incredible." 
Currently, Ferguson is on her college trap team at the University of Tennessee Southern and has continued to thrive, winning the national championship alongside her team this past year. Like Smith, Ferguson did not know much about the trap team when she entered high school. However, she soon realized that trap was the best fit for her. 
"It was something different, and it was a different way of spending time with your teammates," Ferguson said. "I've played soccer, I've played tennis, but I really loved [trap]."
Trap has been a predominantly male sport, but SMS girls are setting new records as the number of female shooters rises. The Ruby Cup is awarded every year to the best trap shooter from Tennessee on the national level. Since the creation of this award, 100% of the winners were male, until Ferguson.  
"At the time that I got [the Ruby Cup], I was the only female to do that, and that was exciting," Ferguson said. 
Trap is an individual sport, and to some, that might seem like a bad thing, but Quinlen has the opposite opinion. 
"For the team sports, if you are not a starter, then you are sort of wasting your time," she said. "but with an individual sport, everybody gets to play. It's just a lot more fun." 
With the addition of nine new freshmen, the trap team is hoping to have another successful season in spring of 2023.