GOLF
Almost every sport requires mental focus, but golf demands a unique kind of attention and precision. Golf team coach, Mr. Jeff McCalla, emphasizes the importance of mental toughness needed to play golf.
"Golf is so mental. You have to be so strong mentally since you do not get to rely on anyone else, and it is just yourself," McCalla said. "Building that kind of strength and fortitude and also being able to stand up for yourself [is important]."
In part because of McCalla's coaching these past few years, the golf team has encountered great success at the individual level. The recent addition of Hana Barber (10, full disclosure: Barber is on the staff of the Tatler), who ranked third in last year's state tournament, took the team to the next level. Though Barber naturally thrives in golf, she explains the importance of keeping calm when there is a setback.
"A lesson that golf has taught me is to stay optimistic and really focus on what is next," Barber said, "and not to dwell on the past."
For Sophia Wilson (9), who is new to St. Mary's this year, golf provides her with a place to connect with her new classmates. 
"It almost feels like more of a team sport, and we like to cheer each other on," Wilson said. We are all friends."
During a golf match, players must judge themselves since there is no designated referee. Since St. Mary's upholds a strict honor code, SMS golfers are known for their integrity on the green. 
"[Golf] is a game of honor, and one of the things that stands out about our girls is that they don't cheat," McCalla said.
Because of the long matches and determination needed to play golf, it is not everyone's first choice when they enter Upper School. Even Barber was not certain about playing at first. However, she explains her reasons why she decided to pursue the sport.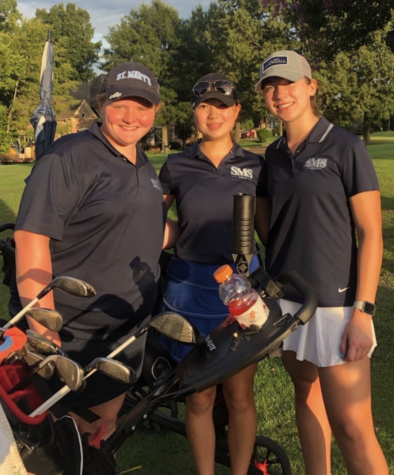 "When I was in sixth grade, I had to make a decision about a middle school sport," she said. "and my dad said why don't you do golf," Barber said.
Barber also considered what her future would look like with a sport. 
"It is really cool to see how you can use golf later on in your life," she said.