Current junior reconnects with her senior… 11 years later
I miss kindergarten. I miss the bridge to caring chapels and the hexagon-shaped cookies. I miss compliment parties and hour-long afternoon naps. Oh, and recently I realized how much I miss the person for whom I walked down that red carpet in my little, white dress with flowers in hand, my senior, Meriwether (Medgie) Adams ('11). As a current junior, one year away from becoming a flower girl's senior, I interviewed her. We chatted just like the "good old days," except this time she didn't have to bribe me with Chick-Fil-A (bless that shy, little Hannah).
"It's like Wedgie, but with an M," Mrs. Dunlap, current upper school chemistry teacher, recounts Medgie saying upon their first encounter. While I don't remember being introduced exactly in this fashion, I found it extremely important that Medgie re-introduce herself to the SMS community, then I asked her a few questions.
Q: "Introduce yourself. Walk us through a general overview of your life after SMS, through college, and now."
A: "I am Meriwether Adams. I…went to Auburn where I studied industrial engineering…After I finished at Auburn, I moved to Nashville to work in a leadership development program…I got to do a trial run of four different jobs…I chose to go into warehouse operations after that program… and I do that full-time now."  (Outside of work, Medgie involves herself in two main hobbies: calligraphy and powerlifting.)
But, before she could own a calligraphy business or manage a warehouse, she did, like all of us, have to go to high school, graduating from St. Mary's in 2011.  Naturally, with it now being 2022, I had a few questions about St. Mary's "back in the day"– ten years ago:
Q: "Were you stressed at SMS? How did you feel about the workload?"
A: "I was such a procrastinator…I would come in at seven every morning [to do homework]…just because I needed to force a sense of urgency on myself…but, about the workload, in general… I did find that a lot of girls liked to talk about how busy they were… you kind of commiserate with one another about how crazy the workload is and if you just think about that time, you could spend that time doing the work instead and then you'd be a lot less busy, but that's not as fun as talking about it…if you can just think about that a little more rationally… I think the workload would be a lot easier than you think it is."
After talking about her life at St. Mary's and after St. Mary's, I just had to ask her about me when I was her flower girl, seeing as she probably remembers me as kindergartener more clearly than I can remember myself at that age.
Q: "Do you remember absolutely anything about me? Any advice to the seniors with their flower girls?"
A: "You were pretty quiet, but I remember you…were very sweet…I remember dropping something off at your house once and your mom was pretty adorable. For the seniors, just embrace that time… it's a really sweet time… I still remember my senior [year], and [as] we're doing this interview right now, which is so special!… When girls go to college and they realize St. Mary's is not like a lot of other schools, they'll cherish that time."
"
When girls go to college and they realize St. Mary's is not like a lot of other schools, they'll cherish that time."
— Meriwether Adams ('11)
So, to my senior, thank you so much for making my flower girl experience so special that I wanted to interview you. To the current seniors, go spend time with your flower girls so they'll want to interview you one day. And, to my future flower girl, I'll be expecting an interview request soon.
Leave a Comment
About the Contributor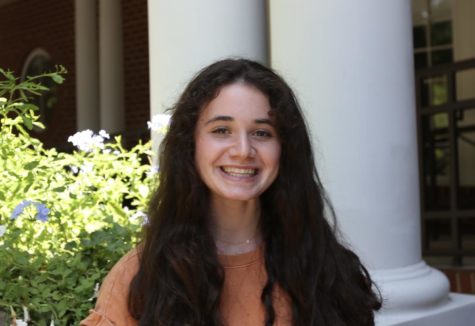 Hannah Kerlan, Staff Editor
If you were to spot Hannah Kerlan in the hallways of SMS, she would probably be laughing, wearing something pink, or talking about the next Inspire meeting....